A good question, especially at a time when dozens of new toothbrushes offering brushing in a few seconds are bursting into a market that plays a major role in the confidence of its customers.
During the 4 years that Y-Brush has been developed, we have tested many different techniques to brush your teeth. The goal is to find the most efficient and quickest way possible.
How to find your way through all these new offers? Between those who propose a scientific approach and those who simply play on promises that will obviously not be kept.
DID ANYONE TRY TO COMPARE THE TWO?
On our side, we have carried out numerous efficacy tests in vitro and in vivo.
We show you a test with our 2016 prototype designed with silicone pins, as well as one with the current and final version of Y-Brush.
The protocol we used was:
Rinse mouth with water
Take GUM tablet and chew for 30 seconds
Spit residue and rinse mouth with water
Plaque is visible on teeth (in red)
Brush teeth with Y-Brush (we did not floss!)
Spit and rinse mouth
Show you all the results
Before Brushing with Early (2016) Silicone Strips Model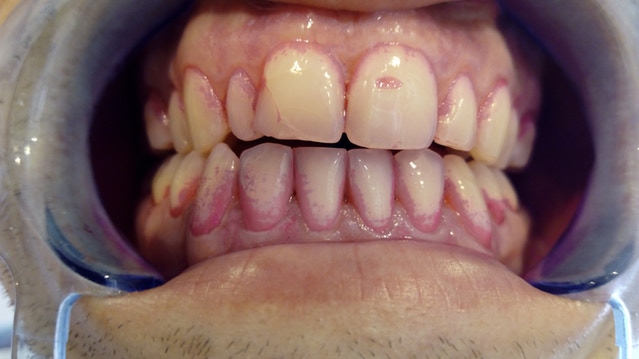 After Brushing with Silicone Strips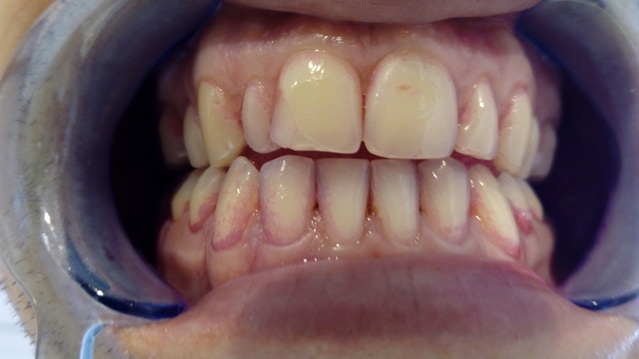 As you can see, Silicone Strips did indeed remove some plaque, but also left plenty behind. This result was not acceptable for us, so we needed to go back to the drawing board and figure how we could make Y-Brush the most effective toothbrush.
Before Brushing with Y-Brush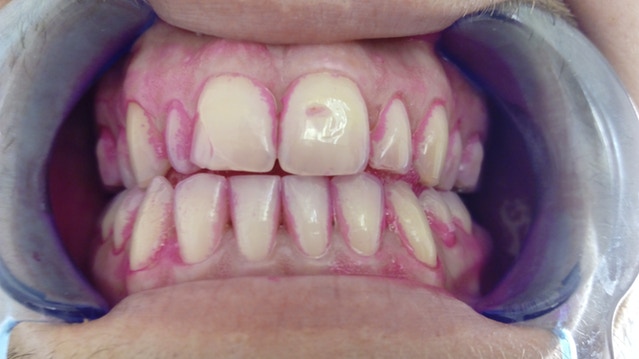 After Brushing with the Y-Brush toothbrush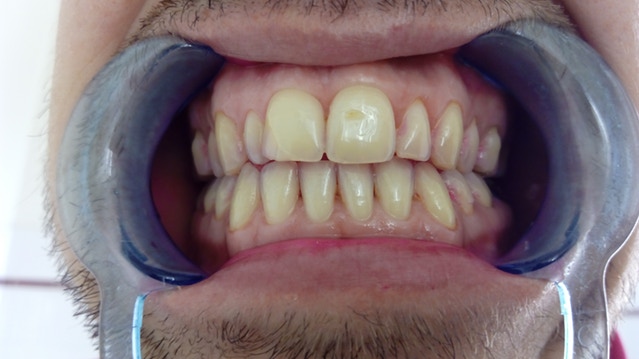 Much better, isn't it?
To be honest, we are quite proud of the result obtained with Y-Brush. But then, why such a big difference in efficiency between these two technologies?
A MATTER OF SIZE
The significant differences between nylon and silicone are the result of a tangible reality.
Have you ever seen a fox try to enter a rabbit's den? You may remember the cartoon in which Tom the cat keeps trying to break into Jerry the mouse's house?
We know how it goes: they struggle and only get in the head.
Here, it's a bit the same principle:
Y-Brush uses nylon bristles with a width of less than 0.1 millimetres. These allow to go deeper into the most difficult to access areas (such as the inter-dental spaces of premolars for example).
The vast majority of its competitors use silicone pins with a width of more than 1.5 millimetres. Without a doubt, we can make the following statement: these pimples do not remove plaque in depth.
We show you this with a schematic:
MATERIALS WITH VERY DIFFERENT PROPERTIES
It is no coincidence that nylon bristles have always been recommended for plaque removal.
Silicone pimples also have significant advantages: they are inexpensive and very easy to manufacture (a mould with holes: no technical difficulties in production).
In addition, although some distributors have tried to make its usefulness credible, no scientific article has ever been able to prove the effectiveness of silicone.
From a physical point of view, it's very simple: nylon has an abrasive effect while silicone only massages the teeth. This is why silicone, in addition to not being able to reach a certain part of the areas to be cleaned, is not effective on those that remain easy to access.
AN INEFFICIENCY THAT IS BEING FELT
The first people to receive the Amabrush product (a toothbrush designed with silicone pins, supposed to brush teeth in 10 seconds) organized themselves to share their experiences with this brush. To do this, one of their customer created an online document and shared it with everyone who bought this brush - through a Facebook group. Their dissatisfaction is quite clear: the ratings given to the model in question are all between 1 and 2 out of 10, the first people to receive Amabrush do not recommend it, explain that this brush does not clean teeth and express the wish to be reimbursed.
One of their Austrian customers carried out a test of the same nature as the one we conducted to show the ineffectiveness of Ambrush and silicone:
Translation
(it can help)
Vor dem Einfärben = Before using the developer (a solution similar to the GUM red we used)
Eingefärbt = After using the coloured solution to reveal plaque
Putzvorgang mit Amabrush = Use of Amabrush
Nach 10 sec = After 10 seconds (of "brushing")
Nach weiteren 10 sec = After 10 additional seconds (i. e. 20 seconds of brushing)
Danach 1 min. mit Oral B = After 1 minute with a classic - toothbrush - Oral B
Photo Credit: zvg
Unfortunately, we expect an avalanche of disappointments for the two V-White brand products: X-Toothbrush and Hi Toothbrush, as well as for the uFunbrush toothbrush for children.
HOW ABOUT SOME BETTER, MORE POSITIVE AND COMFORTING THINGS
More than 3000 of you have already ordered Y-Brush! To celebrate, we are offering you 10€ on your next order with the code DEJA3000.
And don't forget...
Nylon is the only one that takes care of your teeth for good!